On the 1st of September I released the update of my The Little Rascals e-book. It's been a big job but it's done!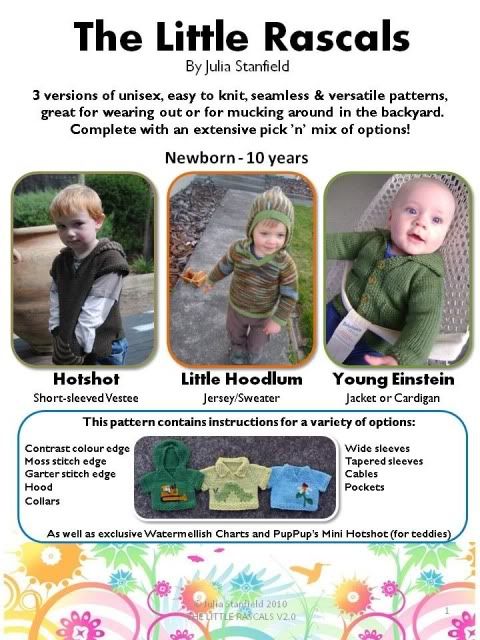 Here's the blurb from
Ravelry
:

The Little Rascals e-book is a collection of 3 unisex, easy to knit, seamless (topdown) and versatile patterns. They're great for wearing out and about and for mucking around in the backyard.

The Little Rascals are all v-necked garments - Little Hoodlum (jersey), Hotshot (vestee), Young Einstein (jacket/cardigan) - making them easy to pop on a bib if necessary or for bigger kids who don't like yarn up against their neck.

The e-book is a comprehensive, detailed pattern with almost every imaginable extra possible! The new improved pick-a-path style pattern has so many options to allow you to choose your own way through the pattern, creating your own unique garment for a loved one.

The updated e-book now contains instructions for:
Contrast colour edge
Moss or garter stitch edge
Hood
Collars in either rib, moss or garter stitch
Wide or tapered sleeves
Cables in the raglan, kangaroo pocket or hood
Kangaroo or patch pockets

As well as exclusive Watermellish embellishment charts for:
Bulldozers
Daisies
Ladybugs
Caterpillars

But wait! There's more!

Also included is PupPup's Mini Hotshot pattern (for teddies), so you can knit matching sets for beloved teds.

Sizings for the patterns range from newborn up to 10 years (15-28 inch chest)

The patterns can be knit in either DK (8ply) or worsted weight (10ply) as long as a 20sts gauge is achieved. Information is also provided for substituting yarns of other weights.
Now this update should've gone to everyone who has purchased this pattern in the past via Ravelry. If you haven't got your copy and you purchased it there, click on 'my notebook'. From the list of options, select 'purchases'. In there you'll find access to the latest version.
If you bought it directly from me, please contact me for an updated version. If you could tell me when you purchased it or have a copy of correspondence with me (if it makes searching through emails easier my email address is jstanfield at xtra dot co dot nz.)
This pattern is intended for personal home use only. Commercial use of this pattern is permitted only through a cottage license, please contact me if you're interested in a Cottage License.
If you'd like to buy a copy, for September and October it's at a special price of $10USD. If you click the button below you'll be taken to purchase it :)

A huge thank you to all my wonderful testers and collaborators xxx