I've really neglected blogging lately, I write so many entries in my head, but actually finding the time to type them is tricky these days.
This week has been busier than most. My little 6 month old David ended up in Hutt Hospital for 4 days and nights due to a pretty rough bout of Bronchiolitis, poor wee mites 2nd one (but by far the worst of the 2) this winter.
I've 3 children, but David is the first ever to get bronchiolitis, it's pretty scary to be honest. At his worst, David's little chest was heaving so hard and fast, his wheezy breathing sounded like a harmonica and he was too weak to feed as it was all just too hard and tiring for him. My poor baby was put on oxygen and had a nasogastric tube for feeding put in almost as soon as we were admitted to hospital. I think the image of him all weak in my arms looking up at me with these big sad eyes will be forever imprinted on my memory.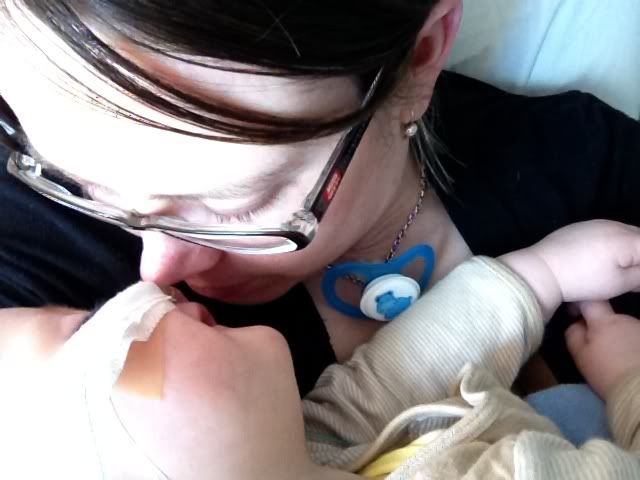 But one night in hospital, instead of feeling utterly tired and over it all, I had a real sense of gratitude.
We have so much to be thankful for. Thank you to all the wonderful people who sent messages, texts and emails. I will apologise right now for not replying to them all, and I don't think I will ever catch up on them, but thank you.
Thank you to all the people who jumped into action to help support us. With a young family there was a fair bit of juggling to do. I had a baby in hospital, a 2.5 year old with the same virus miserable at home and unable to be brought to the hospital and a 4.5 year old having her last day at one kindy and starting a new one during the week
Thanks for all the offers of help! I had my friend Christine roped into looking after a sick Timothy while Blair took Penny to kindy for her happy last day. I had my sister Sarah looking after the kids one afternoon so that Blair could come up to hospital and relieve me so that I could come home, see the kids and shower at home. My sister Caroline offered some milk for David as soon as she heard he had an ng tube inserted. This was a huge relief, it's hard to keep ahead of expressing, so starting off with some in the bank was fabulous. I had my other sister Anna dropping off meals, cards and yummy treats that took care of the family at home for pretty much the week. One of my sister's mothers in laws came and looked after the kids one dinner time and evening again so I could come home that day, see the kids, shower and put the kids to bed. And then when my mother-in-law offered to come down to Wellington and stay for a bit that made life a whole lot easier. I know it put extra pressure on both mine and Blair's family, but thank you! We couldn't have done it (and still been sane at the end!) without you.
Amongst all that, I had some special visitors up at hospital trying to share the load with the clingy baby who just wanted his mama, bringing treats, mags and keeping me company. I found the hospital had wifi (yussss! Only in the children's ward too!) and was able to keep in touch with beautiful online friends and family which was a real boost for me, hospital can be so isolating otherwise I'm sure.
I'm also thankful that we live in the Hutt. Hutt Hospital really is awesome. Although I know that in the children's ward we were just another bronc. case, we were given such special care.
And in the middle of the night, when I should've been sleeping while my baby was finally sleeping in his hospital cot, I felt so lucky that this was just temporary. My baby would get better, he would have no long term health issues as a result of it, we would go home and we would all be able to catch up on sleep and go back to normal. It made me realise just how awesome those with kids constantly in hospital must be and how my own week of craziness really is nothing compared to what other families have to deal with.
Arohanui
xx
J